6th Trenchless Romania – Conference & Exhibition
Crossed by the beautiful Carpathian Mountains that cover a quarter of the country surface and with the unique Unesco World Heritage for Danube Delta, Romania is the most diverse country in Europe.
Trenchless Romania Conference & Exhibition is hosted in Bucharest, the capital of Romania, the 12th largest country from the European Union, with an area of 237, 750 km2 and a population of almost 20.000.000 inhabitants. More than 50% of the population leaves in urban areas that have become very crowded year by year and almost 10% is bassed in Bucharest. Rural areas, with big percentage in the population, a have a great need of connecting to public utilities.
Romania is an expanding country, with activities in full development, which make it interesting for investors all over the world. A country with multiple possibilities that must align to european standards, where the use of trenchless technology has become a necessity aș an optimal solution for crossing roadways and other transportation corridors as weel as rivers and waterways.
Trenchless techniques combine economic efficiency and environmental protection thus providing a modern approach for the installation, replacement or renewal of all underground utilities from, water, sewer, gas, and industrial pipelines to electrical conduit and fibre optics with minimum excavation and surface disruption.
The event will showcase machinery, products and services from international manufacturers and providers attracting top quality audiences from around the region.

Click on the photo to view the complete photo album.
Speakers 2022
Andra Petrescu
Host of the event
Jari kaukonen
Chairman of ISTT
Prof. Dipl.-Ing. Jens Hölterhof
Chairman of the GSTT
Dr. Klaus Beyer
Executive Director GSTT
Prof. univ. dr. ing. Ioan BICA
Vice President Romanian Water Association (ARA)
Mark Andre Haebler
Vicechairman AATT
Eduard Dumitrascu
President Romanian Smart City Association
Cortina Bandur-Schaaf
Key Account Manager
FRANKEN PLASTIK GMBH
Dymitr Petrow-Ganew
Area Sales Manager Herrenknecht AG
Roland W. Waniek
Managing Director IKT - Institute for Underground Infrastructure
Thorsten Schulte
Trenchless development Manager Tracto-Technik GmbH
Daniel Turza
Branch Manager Blejkan Construct
Mihaela Bucerzan
CEO DUNA ARMATURA
Jakub Kania
Area Sales Manager Eastern Europe and Austria Reline Europe
Daniel Bostan
Sales Manager Italia & Romania Dantec SRL
Laszlo Fodor
Manager Imocon SRL
Marius Pop
Export Director Romania Funke Gruppe
Trenchless Romania – Conference Registration
The conference attendance is free of charge for network operators, planning offices/engineers and scientific institutes.
For all other persons the fee is 149 € plus VAT.
Trenchless Romania – Awards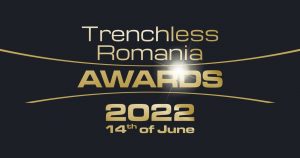 The papers for Trenchless Romania Awards 2022 is now open! All companies interested are invited to submit a 500-word abstract (in English) outlining the scope of their project and the principal benefits to the trenchless industry. The abstracts should be submitted to maria.nae@trenchlessromania.ro until the 15th of May 2022. The abstracts must contain the following information:
Title of Project;
Trenchless Category/Section: Pipe rehabilitation (including pressure pipes); Cured-in-place pipe (CIPP); Pipe bursting; Installing new pipeline; Horizontal directional drilling (HDD); Microtunnelling; Pipe jacking; Pipe ramming; Direct pipe etc.
Author's Name;
E-mail Address;
Brief Description of Paper, Abstract in English of no more than 500 words, images and video of the projects.
Papers accepted for presentation will be published on the homepage www.trenchless-romania.com
Contact person: Maria NAE, Project Manager · Tel: +40 724 550 830 · maria.nae@trenchlessromania.ro
Trenchless Romania – Partners and Sponsors
Initiator
Platinum Partner
Gold Partner
Silver Partner
Bronze Partner
Conference Partner
Coffee Break Partner
Main supporters
Supporters
Principal Media Partners
Media Partners
Organizer
HOST CITY
Trenchless Romania - Contact
Audienta Generala AG


Project Manager: Maria Nae
+40724 550 830
maria.nae@trenchlessromania.ro
Strada Roma, Nr. 16
Ap. 2, Sector 011774
Bucuresti-Romania
Trenchless Romania - Location
Accomodation-Packages available soon. - For more information please contact
Maria Nae
.